"Here Today, Hair Tomorrow"
- How to Stop Hair Loss and Stimulate Hair Regrowth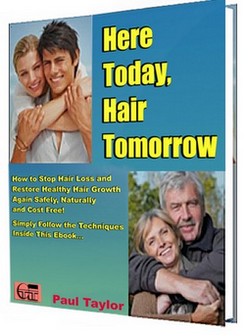 I wrote "Here Today, Hair Tomorrow" so that other men and women can learn and successfully use the same techniques that saved my own hair.
Techniques based on the real reason behind hair loss.


The Real Reason Behind Hair Loss
Very soon after I started losing my hair, I began research into hair loss, and eventually realized that the actual mechanism which drives the hair loss process is in fact skull bone growth (skull expansion).
The work I did culminated in the publication of an article I wrote for the Medical Hypotheses Journal:
Taylor, P. J. (2009). Skull Expansion: Alternative Model for the Primary Mechanism of AGA, Medical Hypotheses, 72(1), 23-28.

Clearly, once you fully understand a problem, you can then go about finding a solution. So I then started thinking about how to counteract the hair loss process and get my hair growth back to normal:


My Techniques Can Regrow Hair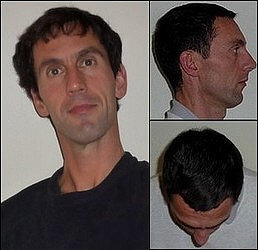 Eventually, I managed to develop my own techniques which went on to produce the results you can see in these photos. Without them, I'm convinced I would almost certainly now be completely bald.
Here's a very basic idea how my methods work:
This is a three-pronged approach to hair loss that involves eight techniques. Each technique relates to a specific region of the scalp: four address the front/temple region and four address the back/crown of the head.
They do not involve: simple breathing exercises, neck stretches or rubbing various substances onto your head!
These are specialized techniques that counteract both the cause (skull expansion) and the symptom (hair loss).
They are unique, and they work!
They saved my hair, and I'm pretty sure they can save yours too:


Who Can They Help?
My techniques can help both men and women.

Men
If you have suffered hair loss to the same extent as myself (moderate hair loss but not complete baldness) or for about the same amount of time (seven years) then these techniques will help you.
But, if you've been completely bald for many years, I think it's unlikely that my techniques will regrow your hair.

Women
Women usually experience thinning hair and hair loss evenly spread out in the same region of the scalp as men.
But, unlike men, women do not normally develop severe baldness. That's because they have much lower levels of the male hormone DHT, and skull expansion usually develops to a much lesser extent.
So, for these reasons, women should expect very strong hair regrowth from my techniques.

Other Types of Hair Loss
My techniques can also help with other types of hair loss such as telogen effluvium (as you can see in the next section).


What Results Can You Expect?
If you have moderate hair loss, then there's no reason why you shouldn't expect the same results as myself. I used these techniques to successfully reverse my hair loss and stimulate strong hair regrowth which I've kept ever since.
Within about one month, your rate of hair loss should reduce (perhaps even dramatically). These techniques will then improve the growth of thinning hair and also generate significant hair regrowth. This will take about three months.
"Thank you very much, Paul. Had a run in with telogen effluvium a few months back, it was fantastic... I really think you're on to something."

Yvonne Snell, USA
"I have already started to see some new growth and thickening after 7 weeks. Thanks."
Scott Stinnett
To stop hair loss and restore strong healthy hair growth again, you just need a small degree of commitment: about 15 minutes, twice a day (although if you can spare a bit more time that would be even better).
If you are prepared to devote a little of your time every day, then these techniques are definitely worth trying.


Read "Here Today, Hair Tomorrow" and Start Saving Your Hair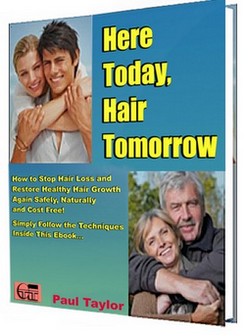 Having saved my own hair I knew these techniques would help other people too.
That's why I wrote:
"Here Today, Hair Tomorrow"
You can very quickly learn exactly what my techniques are, why they work and how to use them simply by reading this ebook.

"Here Today, Hair Tomorrow" contains:


Step by step instructions –

These

explain everything you need to do to restore healthy hair growth again.


Illustrations –

These

show you exactly how to use the techniques.


Examples – These demonstrate the best way to use the techniques for hair loss at the front, back and crown of the head. 


"Exercise Regime Work Sheet" – This helps you remember how to apply the techniques and reminds you to do them each day.


It took me seven years to discover the real reason behind hair loss and develop these techniques. But you can quickly learn how to use them simply by reading this ebook.
I'm convinced that my techniques are the most effective, safe and sensible way to stop hair loss. And that, for anyone who suffers this condition, "Here Today, Hair Tomorrow"  is essential reading.


How Much Is a Method That Really Can Regrow Hair Worth?
"Here Today, Hair Tomorrow" really does promise to reverse hair loss and stimulate regrowth of hair you've lost. And you can buy this ebook right now for just USD $29.95.
Almost all other hair loss products have ongoing costs which will very quickly add up to thousands of dollars over time.
But "Here Today, Hair Tomorrow" does not. Once you learn how to use these techniques, that's it. There are no hidden extras.
Other hair loss products might also pose a risk to health from nasty side effects (e.g., the drugs minoxidil and finasteride). But my hands-on techniques are safe and easy to apply yourself.


Guaranteed to Regrow Hair

If you're not convinced that my techniques can stop your hair loss and restore healthy hair growth, simply contact me within 30 days for a full refund, no questions asked.
This guarantee also means you can simply take a look at the ebook. Keep it for a month, read it and start using the techniques. Your hair won't miraculously regrow within 30 days but you should still be able to see improvements such as your rate of hair loss slowing down within a month.
"Here Today, Hair Tomorrow" download follows immediately after purchase, so you can start learning how to use these techniques straight away. Start using these techniques today and see what a difference they make to the growth of your hair.
To get your copy right now, just click the button below:



Secure transaction via PayPal. Your private details will remain safe. The Ebook is in PDF format. Download delivery follows immediately after purchase. Terms and conditions.

"Hi.
I'm 24 years old, and I have used the techniques in your ebook for a couple of months now on a daily basis.
I can clearly see that new hair is growing in the temple region (where I've lost quite a bit of hair), but it seems like it's not growing at the same pace as the rest of my hair. It has the same dark color (was colorless a while ago), but I do not believe it's growing any faster yet."

Update 5 months later:

"Hi. It's been a while since I updated you about my progress; and it's still going strong. The new hair in my temple regions has grown quite a bit, and I'm confident that my hairline within a year would be what I could call "fantastic".
Ole Hillesland

Best wishes,
Paul Taylor, B.Sc.

P.S. Remember, these techniques treat both the cause (skull expansion) and the symptom (hair loss). No other hair loss product does this. They are unique, and they work. Dozens of testimonials prove that these special techniques really can reverse hair loss.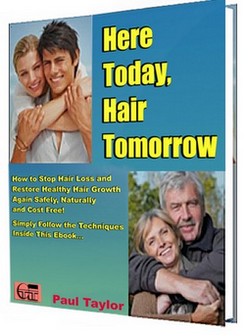 You don't need drugs, lasers or lotions to stop hair loss and get your hair growing again. Most of these other hair loss products don't even work anyway. And many of them carry a risk of side effects too.
Give my techniques a chance and you'll see that this safe, hands-on approach really does work.



100% safe and secure order processing via PayPal.

"Your techniques are the only truthful hair loss remedy I have ever found, as it completely resolves the problem."
Jake Keane

"Just wanna say sir in one month only, my hair have become so much healthy. Thanks to you sir all my friends will also buy your ebook. They are like in love by seeing my hair from thinning to getting healthy just in one month."
Manvendra Narula