Hair Loss Product Reviews: Rogaine, Propecia, Lasercombs...

By Paul Taylor


The hair loss product reviews below will help you learn which products might be worth trying and which ones might be a total waste of time, effort and money!
Jump down the page to research the most popular conventional products:

Drugs (Rogaine, Propecia, Proscar).
Shampoos (e.g., Nizoral and Nisim).
LaserCombs and other hair regrowth devices.
Concealers (Toppik, Nanogen, Mane and DermMatch).
Saw palmetto products (e.g., Provillus, Procerin and Revivogen).
Copper-based products.
These reviews will help you get answers to the important questions:
Do they really work?
Are there any side effects?
Can both men and women use them?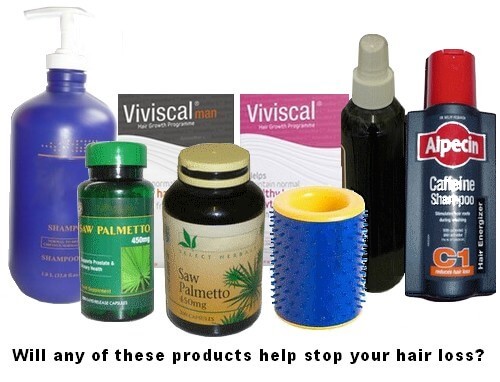 Note that these reviews are completely independent. I do not endorse or recommend any hair loss product reviewed in this section (with one exception: Nutrihair for telogen effluvium).
And this website has no sponsorship or affiliation with any company either, which also means that you can't buy any of these products from here. The hair regrowth and hair loss product reviews below simply give my own personal opinions based on the research I've done.
Finally, please note that almost all products reviewed here have not been used myself, and the one or two I have tried were only used in a way you might not expect: eyebrow hair loss.


Comparing Hair Loss Products Couldn't Be Easier
One of the main problems with so many other websites is that it can be a real needle in a haystack trying to find exactly what you're looking for.
So I've done all the hard work for you by reviewing the most well-known and well-used products available and summarizing them so you just get the facts.
To help you quickly find my product reviews, they've been listed in separate categories. Some categories have comparison charts too – use these to compare similar products.
Within each category, it's best to start at page 1 and read through in logical order because each page does follow on from the previous one.


Drug Products

These products contain either prescription or non-prescription drugs. There are two sub-categories:

Topical Drugs
Rogaine side effects
Discover the mild, moderate and severe side effects of Rogaine (minoxidil) and whether men or women more at risk from using this drug product.
Generic Rogaine
Does generic Rogaine really work?

Oral Drugs
Propecia (finasteride)
Finasteride side effects and Propecia lawsuits. Also discover the problems with Proscar if you use it for hair loss.
Avodart (dutasteride)
Are Avodart side effects exactly the same as for Propecia?


Saw Palmetto and Other DHT Blocker Products
Can saw palmetto really help save your hair? Twelve topical and oral saw palmetto products are reviewed and compared.
Saw palmetto oral supplements
Compare Advecia, HairGenesis, Procerin, Provillus and Shen Min.
Saw palmetto topical DHT blocker products
Compare Crinagen, Folligen, HairGenesis, Nisim, Procerin, Revivogen and Shen Min DHT blocker products.


Shampoos
Discover the nasty ingredients to look out for and the hair loss shampoos that contain them. Drug-based shampoos, DHT blocker shampoos and novelty shampoos are reviewed.
Alpecin
Can caffeine really help with hair loss?
Nisim shampoo
Learn about Nisim's DHT blocker shampoo.
Nizoral shampoo
Can Nizoral dandruff shampoo also be used for thinning hair?
How to find the best hair loss shampoo
Compare Alpecin, Nisim, Nizoral and other shampoos.


Copper Peptide Products 

The mineral copper is important for hair growth. But can it stop hair loss?
Folligen
Can copper peptides save your hair?
Tricomin
How does Tricomin compare with Folligen?
Copper peptides
Find out what happened when I tried using copper peptides myself.


Products Containing Marine-Derived Protein
Assuming you're not allergic to any of the ingredients, are they worth trying?
Nourkrin
Nourkrin products for men and women: What's the difference?
Viviscal
Viviscal Vs. Nourkrin: Spot the difference!


Concealers and Hair Sprays

Shake it on, spray it on, cover it up! These can be used alongside other hair loss products and treatments whilst they try restore your scalp hair.

DermMatch
Discover eight reasons why I don't think hair loss concealers are such a good idea.
Mane hair products
What are the main problems with Mane hair spray?
Nanogen
Why I think you should say "no" to Nanogen Fibers.
Toppik
Toppik side effects and ingredients revealed: Is this product safe?


Hair Growth Devices

Take a closer look at hand-held laser products and the hair loss helmet.
BX3.4 hair loss helmet
The BX3.4 hair loss helmet – Everything you need to know.
HairMax LaserComb
Find out why the HairMax LaserComb might not help you.
Dermaroller
Scientific studies prove that microneedling can activate the skin repair and hair growth mechanisms. But can it really stimulate hair regrowth? Learn all about using a dermaroller for hair loss. This review compares results, side effects and the best dermaroller to use.


Other Supplements for Hair Loss
Iron supplements, amino acids and a Chinese herbal remedy for hair loss.
Euramin Vital Hair
Can this amino acid, goji berry and vitamin B supplement really help get your hair growing normally again?
Advecia
Find out the facts about Advecia.
Nutrihair (Florisene)
Nutrihair is for chronic telogen effluvium.
Shen Min
Discover the Shen Min DHT Blocker product.


But Are They Really Safe and Natural?
Some hair loss products claim to be safe and natural even though the powerful effects some of them can have on your body might suggest otherwise.
So if you prefer an alternative approach (physical exercises, vitamins, herbs, essential oils, etc), visit my natural hair loss remedies section.

Any Hair Loss Product Reviews Missing?
There are a bewildering number of hair loss products available. So it's impossible to cover them all.
But, if you're looking for the inside information on the most popular hair loss products, you should be able to find it here.
If you can't, and feel a particular product should be included, just let me know using the contact form and I'll review it.
Also note that that very little price information has been given because this will vary considerably subject to vendor, bulk orders, special offers, shipping, etc.
I hope you find these hair loss product reviews informative, and that they help you make the important decisions about which products you might want to try, and which ones you should definitely avoid.