Nuhair and Shen Min DHT Blocker Review of Ingredients and Side Effects

By Paul Taylor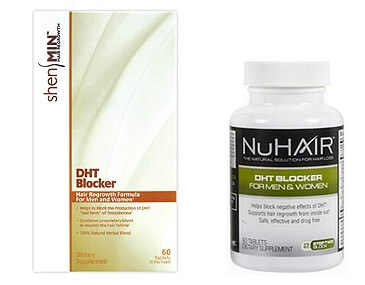 Some ingredients in the NuHair and Shen Min DHT Blocker products can cause side effects.
This review explains the potential risks.
There are several hair regrowth products in the Shen Min range, as you can see from the list below:

Advanced Men's Formula


Advanced Women's Formula


Original Formula


Hair, Skin & Nails


DHT Blocker


Topical
As well as all these products, another brand called NuHair (or "Nu Hair" in the UK) seems to have an almost identical product range. The reason why is because both these brands have the same manufacturer and parent company (Natrol).
So this review examines the Shen Min DHT Blocker dietary supplement, compares it to its "sister" product, NuHair DHT Blocker, and asks the following questions:

Do they work?
Are there any side effects?
Are the ingredients identical?


Does Shen Min DHT Blocker Really Work?
Not surprisingly, just like any other hair regrowth product on the market, there are plenty of reviews which say it does.
Both the Shen Min and NuHair products target production of DHT* - the hormone most often associated with hair loss (androgenetic alopecia). And there do seem to be quite a few reviews in praise of the hair growth-promoting effects users have experienced.
* Apart from targeting DHT, Shen Min and NuHair also aim to help hair growth by providing other nutrients including antioxidants (e.g., selenium and quercetin) for mopping-up free radicals to reduce cell damage.
Looking at the ingredients, some do have documented research which proves they can have a positive effect at blocking DHT or promoting hair growth:
1. A mouse study (1) demonstrated that both oral and topical application of the herb he shou wu (or fo-ti) had "hair growth promotion activities".
2. A study (2) identified equol (metabilized from daidzein in isoflavones) which can "bind circulating DHT and sequester it from the androgen receptor".
3. Saw palmetto has been shown to be a naturally-occurring 5-alpha reductase inhibitor that is effective against this type of hair loss (3).
However, there are also quite a few Shen Min reviews warning about some worrying side effects.


Shen Min Side Effects

There is a potential risk it could cause liver damage from acute hepatitis (4).
All Shen Min and NuHair products carry a warning which states that, if you have liver problems, you should consult with a healthcare professional before you use them. That's because, one of the main ingredients common to all these products is the Chinese herb he shou wu.

He shou wu – Not good for you?

Some Shen Min reviews do unfortunately suggest liver-related pain and problems can be caused (even on a low daily dose).
And because all Shen Min and NuHair products contain he shou wu, if you were to take multiple products, at the dose they recommend, clearly your risk of side effects is even greater. 
For example, if you were to take the recommend daily dose of Shen Min DHT Blocker (2 tablets) and the men's or women's formula (2 tablets) you'll be putting a total of 850 mg of he shou wu into your body every day. Use the topical solution as well, and you'll be adding even more!
However, other reviews simply mention an improvement in hair growth (and hair pigmentation) which, of course, suggests no health issues at all.
Finally, as you might already know, liver damage is often associated with high alcohol consumption. Clearly then, if you're a heavy drinker, taking he shou wu is probably not a good idea.

Saw Palmetto… for women?

Shen Min DHT Blocker contains saw palmetto, a herb well known for blocking DHT production. But, just as high DHT levels are mainly associated with men, so too is saw palmetto as a possible way to treat it.
Many manufacturers include saw palmetto in their hair regrowth products. But, whilst some do include saw palmetto in their products for women, others don't.
You can find out how Shen Min DHT Blocker compares with other manufacturers' hair loss products by reading my Saw palmetto oral supplements review.
And to learn the reason why it might not be appropriate for women to take saw palmetto, learn about saw palmetto side effects.
You can also compare some of the most popular saw palmetto topical lotions (including the Shen Min Topical) by reading this review.


Are the Ingredients Identical?

Possibly - having spent quite some time researching, I think it's all a bit of a mess really. The ingredient list, dose, number of tablets contained in each bottle, and product price all seem to vary from one website to the next.
However, I think I've managed to make sense of it all:

Isoflavones

Isoflavones can block DHT and, as such, could be an important active ingredient in this type of product.
Some online retailers state that both the NuHair and Shen Min DHT Blocker products contain just 2.5 mg of isoflavones (some say that it's derived from soy; others fail to mention where it's from). And some retailers state there's a further 17.5 mg of isoflavones from another ingredient: kudzu.
Interestingly, the official Shen Min.com website states that its DHT blocker product contains 17.5 mg of isoflavones from kudzu, but doesn't mention any isoflavones derived from soy (it simply states that there's 6.25 mg of soy extract).
So, overall, it seems that both these products contain 20 mg of isoflavones in total (2.5 mg from soy and 17.5 mg from kudzu).
But, even if it is 20 mg, that's still not a lot of isoflavones when compared to other products available (e.g., in the photo below you can see that this other product contains three times as many isoflavones per capsule).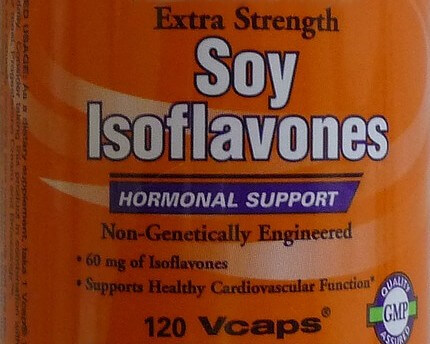 An important DHT blocker - Saw palmetto

As already stated, saw palmetto is a well known ingredient for tackling hair loss. And, as such, it can be found in many products.
And most of these manufacturers state exactly how much of each important ingredient their products contain.
Clearly, saw palmetto is an important ingredient. So it's quite surprising then, that Shen Min and NuHair do not state just how much saw palmetto their products contain.*
* Note: They do state the dose of their own "DHT Blocker Proprietary Blend" (which is 300 mg) but this includes other ingredients combined with saw palmetto (i.e., phytosterols, pumpkin seed extract and quercetin.
I did try to learn the exact dose of saw palmetto, but when I emailed Shen Min about this they replied:

"I don't have that information. Because it's a proprietary blend we do not disclose the exact amount, but it is the second ingredient so it's a higher amount than the rest of ingredients that are listed after it."

Calcium - A balancing act they might have got wrong?

Certain minerals are, without doubt, very important for hair growth. These include selenium and zinc, both of which can be found in the NuHair and Shen Min DHT Blocker products.
However, from the "Other Ingredients" list, another mineral very much seems to stand out: dibasic calcium phosphate, tricalcium phosphate and calcium silicate.
So, although calcium might not be considered to be an active ingredient, it's still part of the formulation. Which means that there could be a lot of calcium you're putting into your body.
Of course, calcium is an essential nutrient for vital processes such as bone formation. But, to make sure it's deposited in your bones and not circulated somewhere else, it needs to be balanced with correct levels of magnesium and vitamins D and K.
And, whilst some magnesium does appear in the "Other Ingredients" list, there's no way of knowing how much is contained or how active it might be in your body.


Shen Min and NuHair Products: A Natural Choice?

No, not if they cause liver damage!

It's all well and good putting naturally-occurring herbal extracts into your body to try and help with hair regrowth, but some of them can be as potent as drugs.
And drugs are anything but natural.
And, clearly, there are other issues I've raised in this article which might also become problematic, especially if you were to take these products long term (which, for hair loss, you would need to do).
Personally, whilst I do believe certain nutrients (from food or supplements) can help, I prefer a hands-on approach to hair loss.