Are Avodart Side Effects And Propecia Side Effects The Same?
By Paul Taylor


And Do Avodart's Risks Outweigh Its Benefits?
Most Avodart side effects are exactly the same as those for Propecia. But there are a few extra risks you need to know about.
This review tells you what they are and also takes a look at generic Avodart.
Both dutasteride (Avodart) and finasteride (Propecia and Proscar) are FDA approved prescription only drugs. Avodart and Proscar treat men with an enlarged prostate gland, and Propecia treats men with hair loss (androgenetic alopecia).
And dutasteride and finasteride also work the same way too (by suppressing the enzyme 5-alpha reductase from converting testosterone into the much stronger dihydrostestosterone).
So, straight away, it's easy to see why most Avodart side effects are similar to those of finasteride. Learn about the side effects of finasteride?
However, there is a big difference between these two drugs - dutasteride blocks both 5-alpha reductase types 1 and 2, whereas finasteride only blocks type 2. This makes dutasteride more effective and so only a smaller amount is needed to treat the prostate – just 0.5 mg of dutasteride (as an Avodart capsule) compared with 5 mg of finasteride (as a Proscar pill).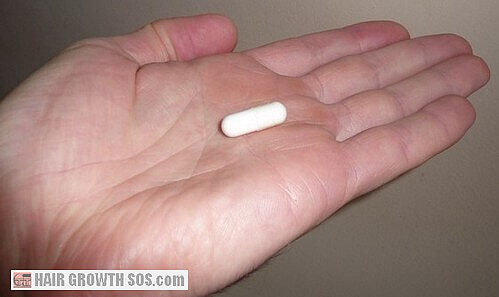 As for hair loss, finasteride is prescribed at a much smaller dose (a 1 mg Propecia pill). But, dutasteride does not have FDA approval to treat hair loss. So, whilst the optimum dose of dutasteride to treat hair loss will obviously be less than 0.5 mg, the exact dose is unknown.
This now creates all sorts of problems for any man who finds finasteride ineffective and then wants to try dutasteride instead:

1. He will first need an off-label (i.e., for use not as shown on the label) prescription by a doctor who's willing to help provide him with a drug outside its intended use!
2. If a doctor did help him (some do by the way) he would then need to somehow split each Avodart capsule (which contains dutasteride as a messy gel) into smaller portions so he can get a regular daily dose.
3. But, since the optimum dose is unknown, he might then take a higher dose than he needs (which, of course, can increase the risk of Avodart side effects developing).
4. Dutasteride stays inside the body much longer than finasteride does. This means that it can easily accumulate if the dose is too high. So, if Avodart side effects do develop, they're likely to last longer too.

It's quite clear then, that using drugs to treat hair loss can create many potential problems!
Unlike Avodart, the method I used to successfully stop my own hair loss had no such risks (they're hands-on exercises). And they're now being used by both men and women (unlike dutasteride and finasteride which state "for men only" but can still cause adverse side effects). Here's one of many testimonials you might find interesting:

"Hi! I purchased your "Here Today, Hair Tomorrow" ebook and have been using the methods in it. So far, the results are good. I had been taking dutasteride for 6 or 7 months at the time and my hair loss got worse. It improved after 2 months with your methods. I'm quite possibly going to stop the Avodart all together. Thanks so much!"
Jeremiah Smith
Visit this page and you'll see plenty more reviews like that from men and women. Most are from men as you would expect, since it's mostly men who suffer this type of hair loss and therefore form most of the readership.


Generic Avodart Side Effects

Some men who fail to get their doctor to prescribe Avodart for their hair loss (which will probably be almost all doctors) may be tempted to get hold of the drug from the Internet instead (i.e., where no prescription is needed and it's a lot cheaper).
So would the side effects be any different if you tried a generic version of Avodart?
In theory, the side effects from generic Avodart should be exactly the same as they are for the brand name version. But, there is a possibility that some other excipient ingredient (i.e., something that the brand name version does not contain) might cause some other adverse reaction.
Clearly, if any man who chose to use dutasteride for his hair loss were to overdose, he should report this to his doctor (i.e., even if he didn't notice any side effects).
Finally, hair loss can make many men feel truly desperate for a solution. And willing to try almost anything to keep their hair or promote hair regrowth to get it back. But hopefully this review has shown that choosing Propecia, Proscar or Avodart might not be such a good idea!

Learn how I developed my own method to beat hair loss.

This is page 2 of 2.
Read previous page? Finasteride side effects.