Hair Loss Newsletter: "Reverse Hair Loss Now!"
A hair loss newsletter that gives unique, fascinating information.
If that sounds like something you'd like to read, then join "Reverse Hair Loss Now!"

This newsletter will keep you up to date with some great hair loss advice and the latest ideas on how to beat it.
Here's a small sample of what you'll learn:
The best shampoos for hair growth, and which ones to avoid.


The truth about magnetic hair loss products.


BAT - What is it? And how can it help you battle against baldness?


Ethnic groups - How hair loss varies between different races.

Gaining new knowledge is vital when it comes to dealing with a problem as relentless as hair loss. So a hair loss newsletter containing cutting edge information is exactly what you need to get on top of your condition.
In each new issue more hair loss facts and hair regrowth secrets will be revealed. It's emailed out to you once a month.
"Hi Paul, I am really enjoying your newsletter! Keep em coming. Thanks for doing it."

Mr A. Nemeth
"Reverse Hair Loss Now!" will bring you the most important discoveries delivered directly to your in-box. It contains essential information for anyone who is serious about stopping hair loss.
It's completely free and only available from this website. Just enter your details in the form below:

Hair Loss Newsletter Form

Extra Special

Your details will only be used to send the newsletter once a month.
However, very occasionally, there might just be an extra "special" issue sent as well, if there's something I believe is really important to share with you.
But that's all. You will never be sent spam.


Respect for your data

The only information needed, asked for, and used to send the newsletter is your first name and email address.

Your name and email address will never be sold or given to anyone else. The information you give is protected by the European General Data Protection Regulation (GDPR).
At the bottom of every newsletter is an "unsubscribe" option. You can quickly and easily unsubscribe at any time simply by clicking that link. If you do so, your personal information will also be deleted.


Free Ebook

Sign up for the newsletter and you also get a free copy of:
"Skull Expansion - True Cause of Genetic Hair Loss"
This ebook reveals the real reason behind androgenetic alopecia (the most common type of hair loss). The truth is finally out: learn how skull bone growth causes hair loss.
Learn more about the Skull Expansion ebook.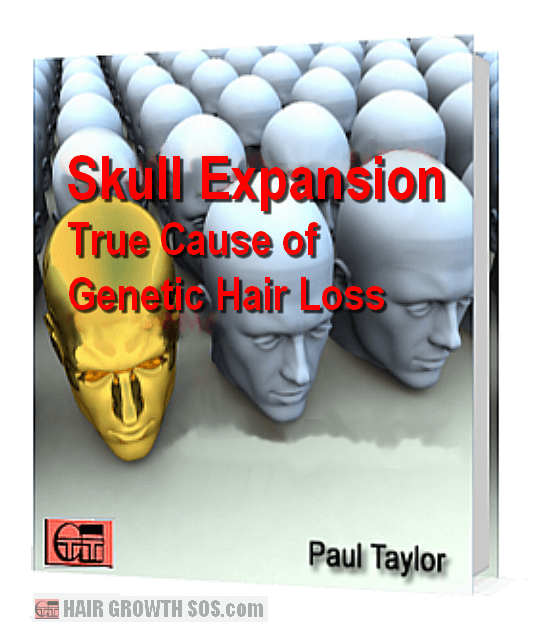 The content of this website has not been evaluated by the FDA and must not replace professional medical advice or be used to diagnose, treat, cure or prevent any disease or medical condition. Visitors are advised to consult with a qualified medical professional before acting on any content contained in this website. Content is provided for information purposes and expresses the opinions of the author. The author is not a qualified health care practitioner.